CRYSTALLINE
Holograms contextualized within a series of space-time-explicit performative gestures. Brooklyn NY 2018.
December 1 –
Circle-casting Multilogue – This performance included a circle-casting involving an invocation of light and crystal intelligence as well as a multilogue which invited attendees to relate their own stories and experiences with light. A calling of the corners modified to consider physical optics was recited, followed by the encircling of the gallery, body of work, and participants with a line of mixed crystal gravel containing refuse pieces of black tourmaline, rose quartz, labradorite, clear quartz, and lapis lazuli.
December 2 –
Sol Star-light Activation – During an afternoon session the artist and participants explored the light from our local star through reflective and refractive media including: holograms, prisms, mirrors, and crystals. We discussed the life-giving properties of light and used a pile of dirt gathered from a local park to investigate our place in the ecosystem, solar system, galaxy, and universe.
December 15 –
Laser-light Séance – In a recreation of a classic spiritualist séance, the artist invoked messages and images from varying materials including objects brought by attendees. All attendees were then connected by laser light —each holding a small mirror—in a reflected-light sigil-drawing ceremony.
December 16 –
Circle-closing Epilogue – The artist, curator, and participants held a wake ceremony over the body of work covered in black velvet furnerary cloths and encircled by red carnations. The dirt gathered for the previous performance was sprinkled over the body of work and the circle was closed, followed by a gathering of the circle-casting stones with were taken away by the attendees.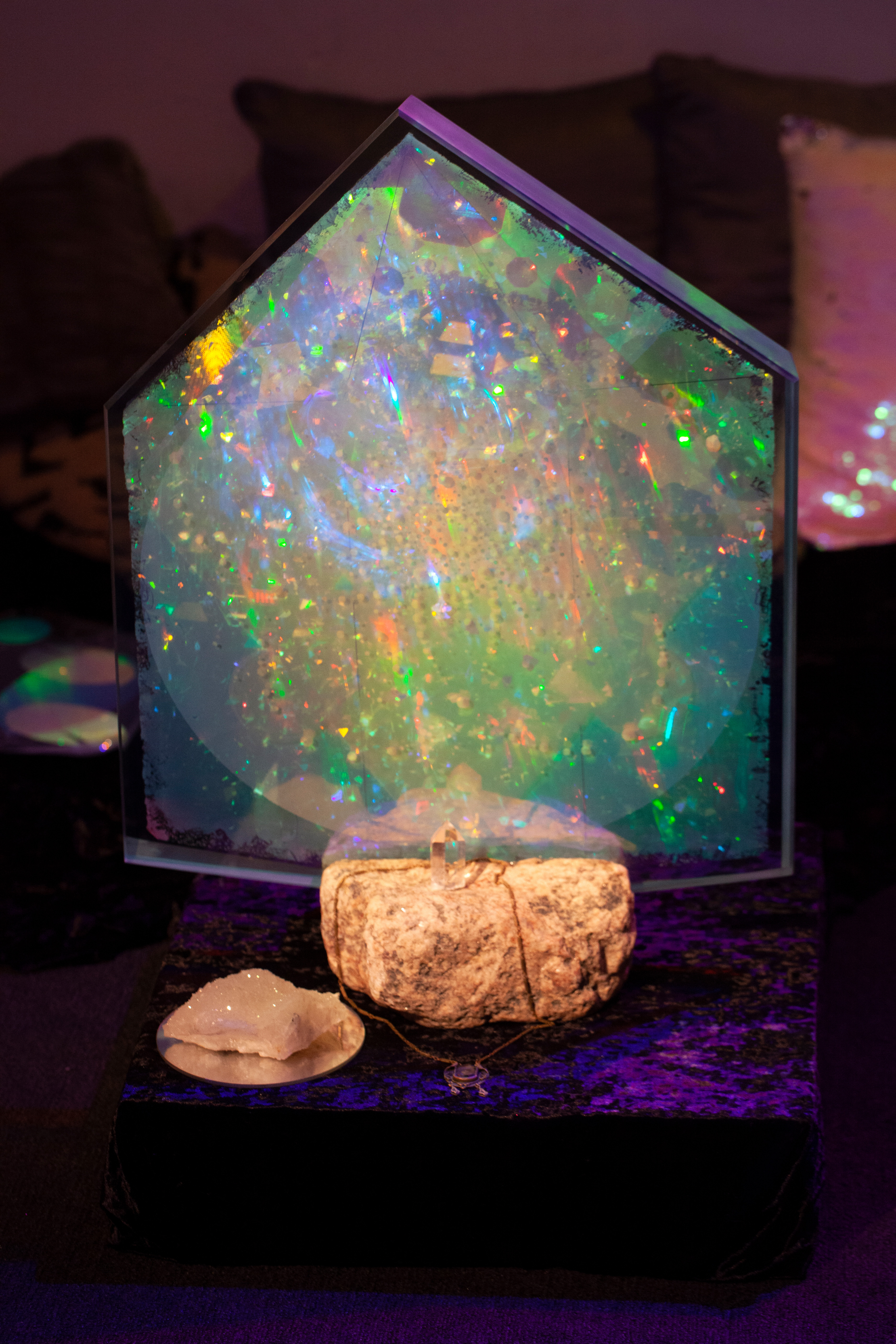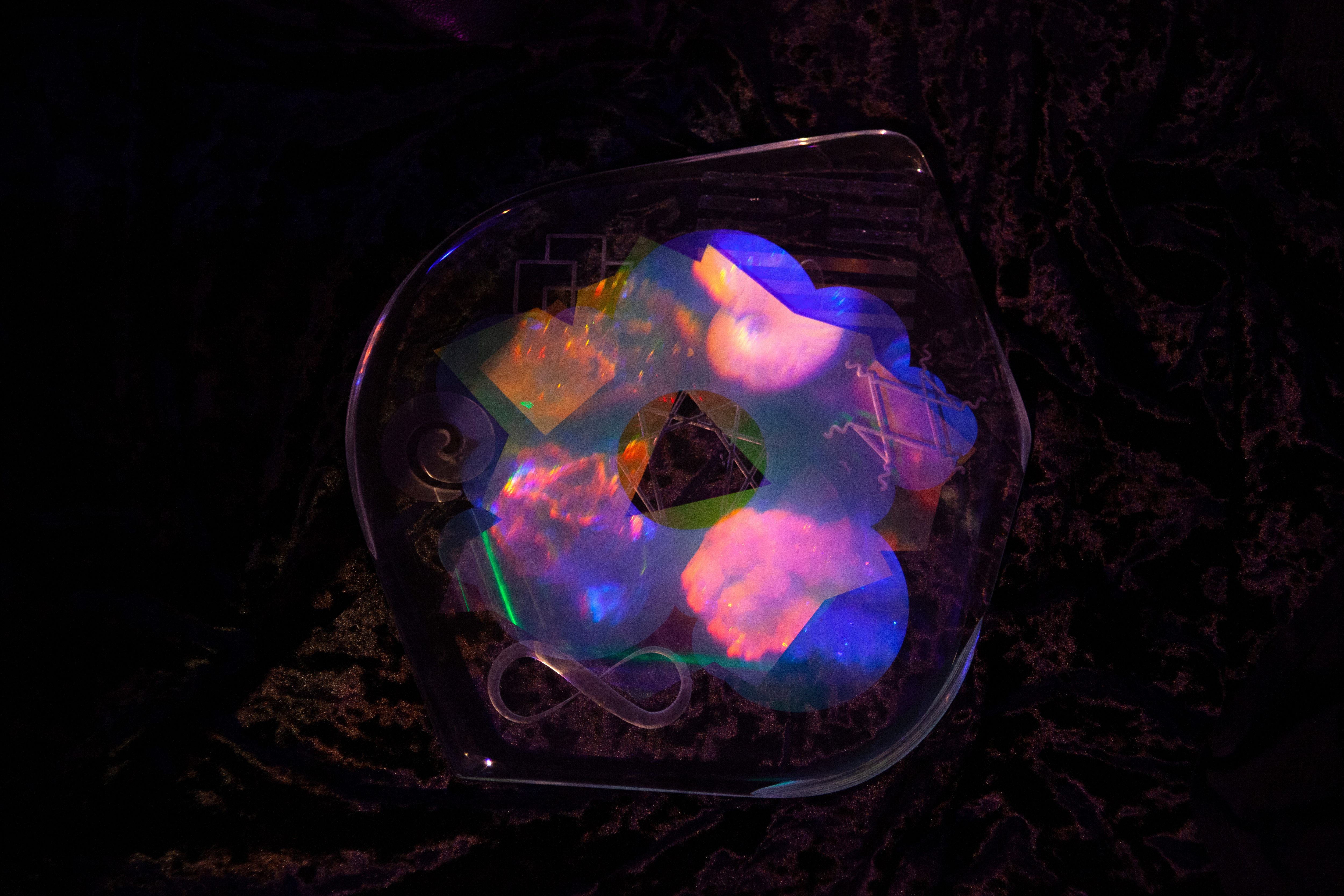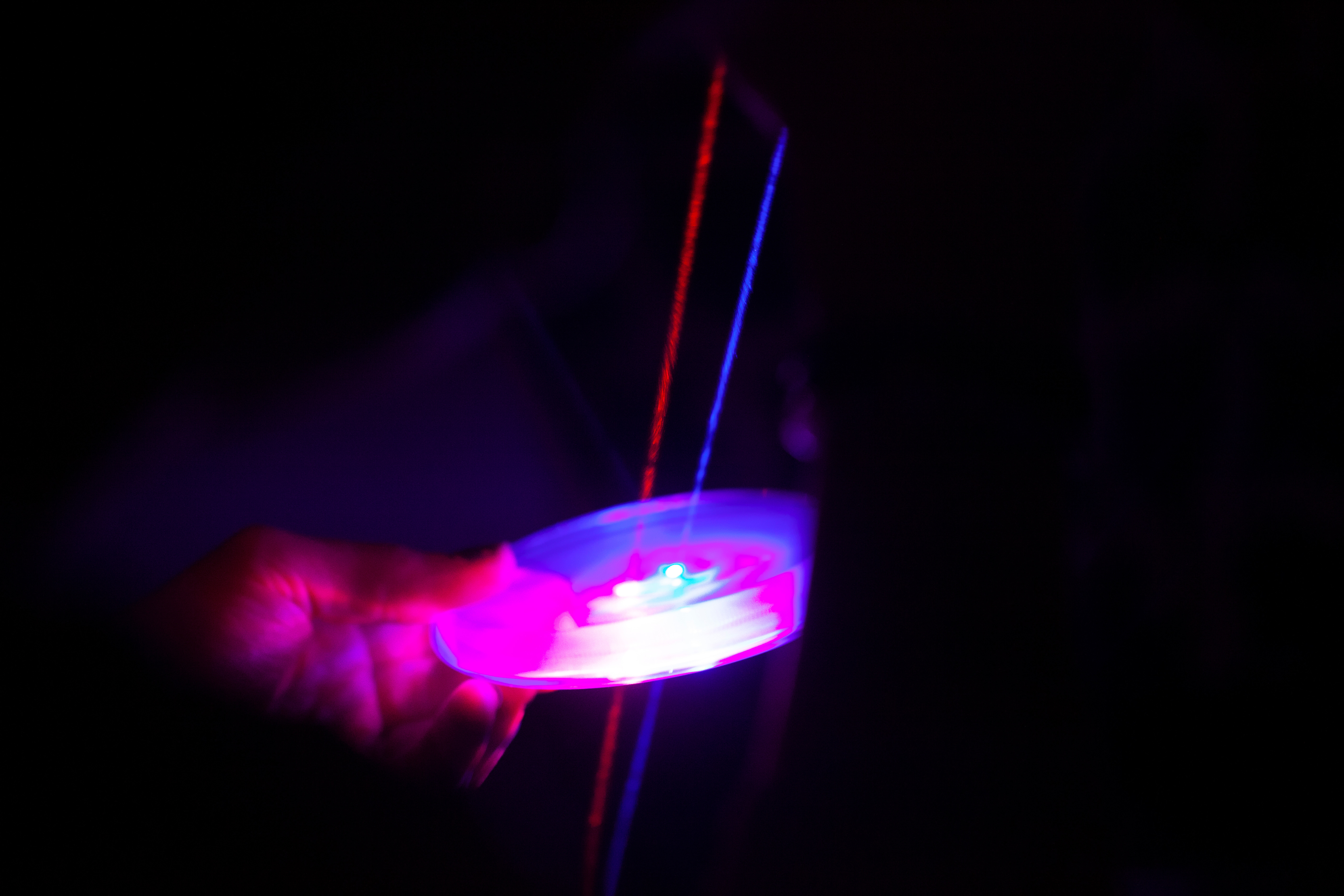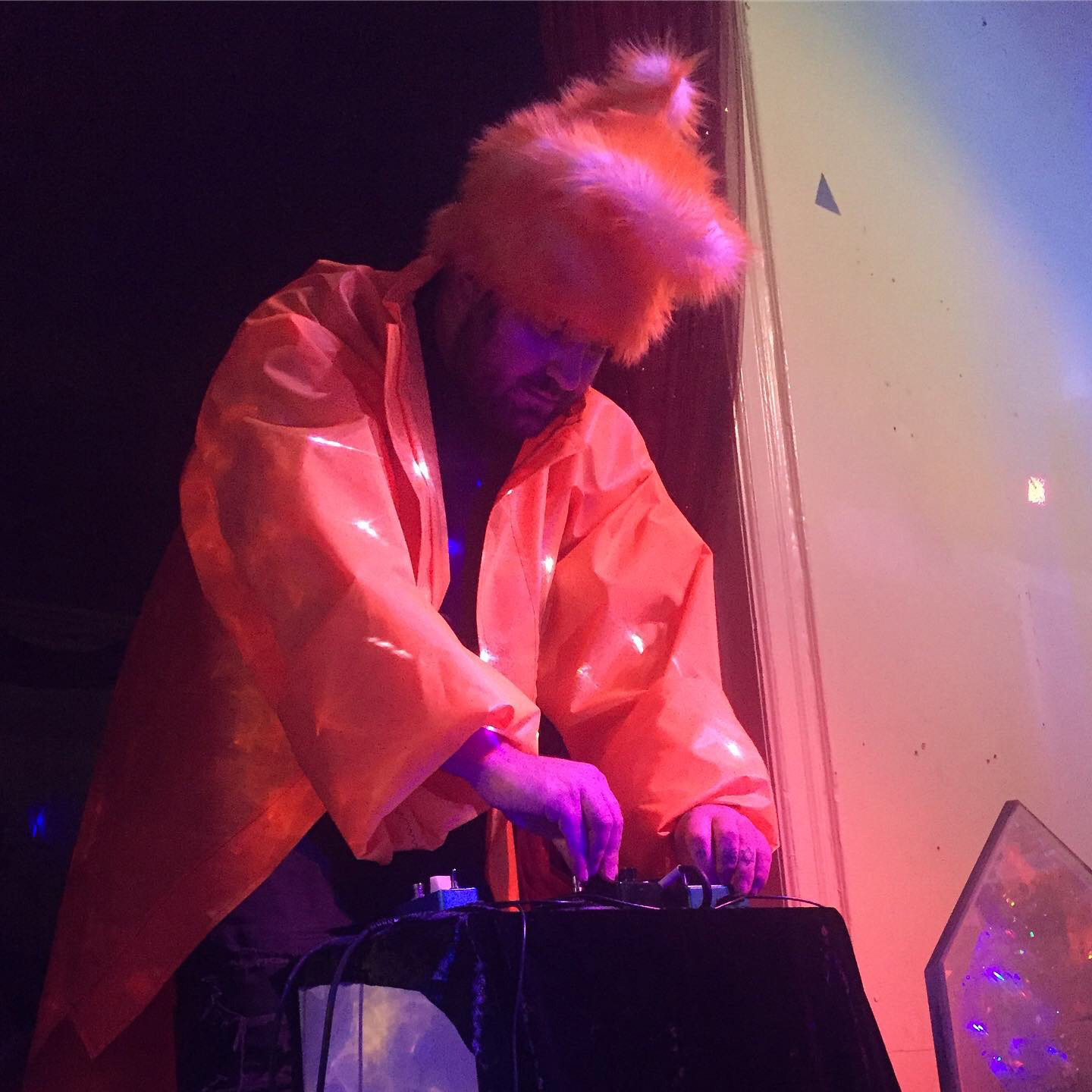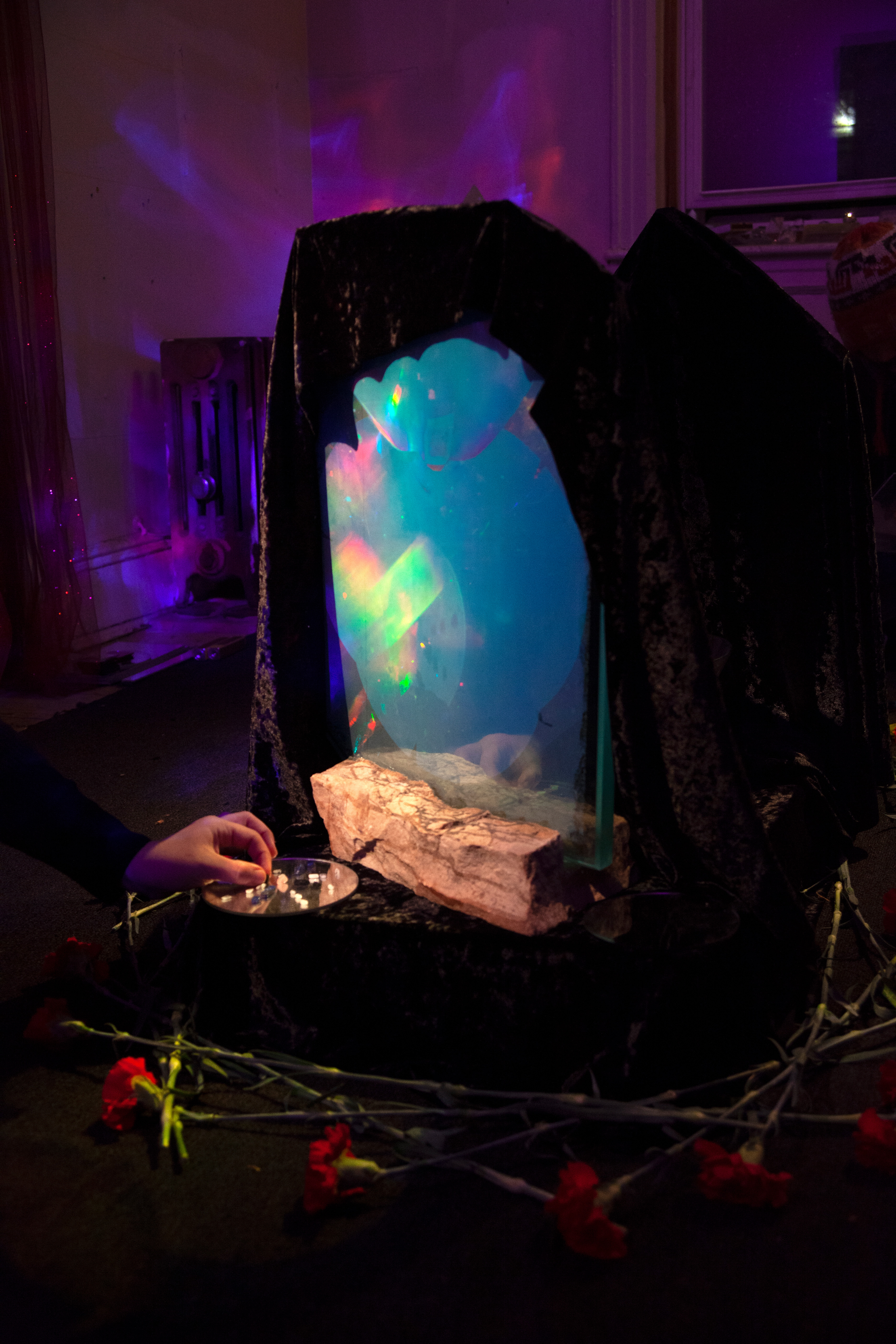 Images by Katherine Finkelstein © 2018
Setting for a Meta-Vanity Table:
Trans-dimensional Looking Glasses


Two objects with an imagined place in history, deconstructing the limits of linear time and allowing an expansion of the potential of self-reflection. Acts that have often been derided as vanity can—through reflecting upon the possibilities of the expansive/complex self—be re-ascribed as a moment of invitation and investigation. These mirrors provide a locus of self presentation, and re-presentation—multiplying and superimposing several selves simultaneously. These particular pieces are the seeds of eventual installations that will include complete meta-vanity sets dedicated to the alter-egos of artists who used those self-created images to investigate the possibilities which emerge from critical play.



Trans-dimensional Looking Glass for Organic Honey
2020



Trans-dimensional Looking Glass for Rrose Sélavy
2020



Possible Worlds Where:


These objects serve as representations of, and portals to, imagined worlds where there is reassurance in the everyday. Moments of pleasure and peace become not only possible but abundant, despite circumstance. As they rest upon their seats and light diffuses through their curving surfaces we are reminded that there are always many ways to see each moment. These little sparkling planets are available to be appreciated with the eyes, the hands, and the heart.


Tears water blooming flowers

Happiness flickers like sunshine through leaves



The past kisses the future softly on the forehead

Love makes no promises
Woe confides in joy as a distant lover
Death is only a subtle shifting



©C Alex Clark 2021


Conveyance Vectors — holographic optical elements in hand-ground glass prisms and lenses. Constructed to shift and bend the perspectives around space-time they inhabit.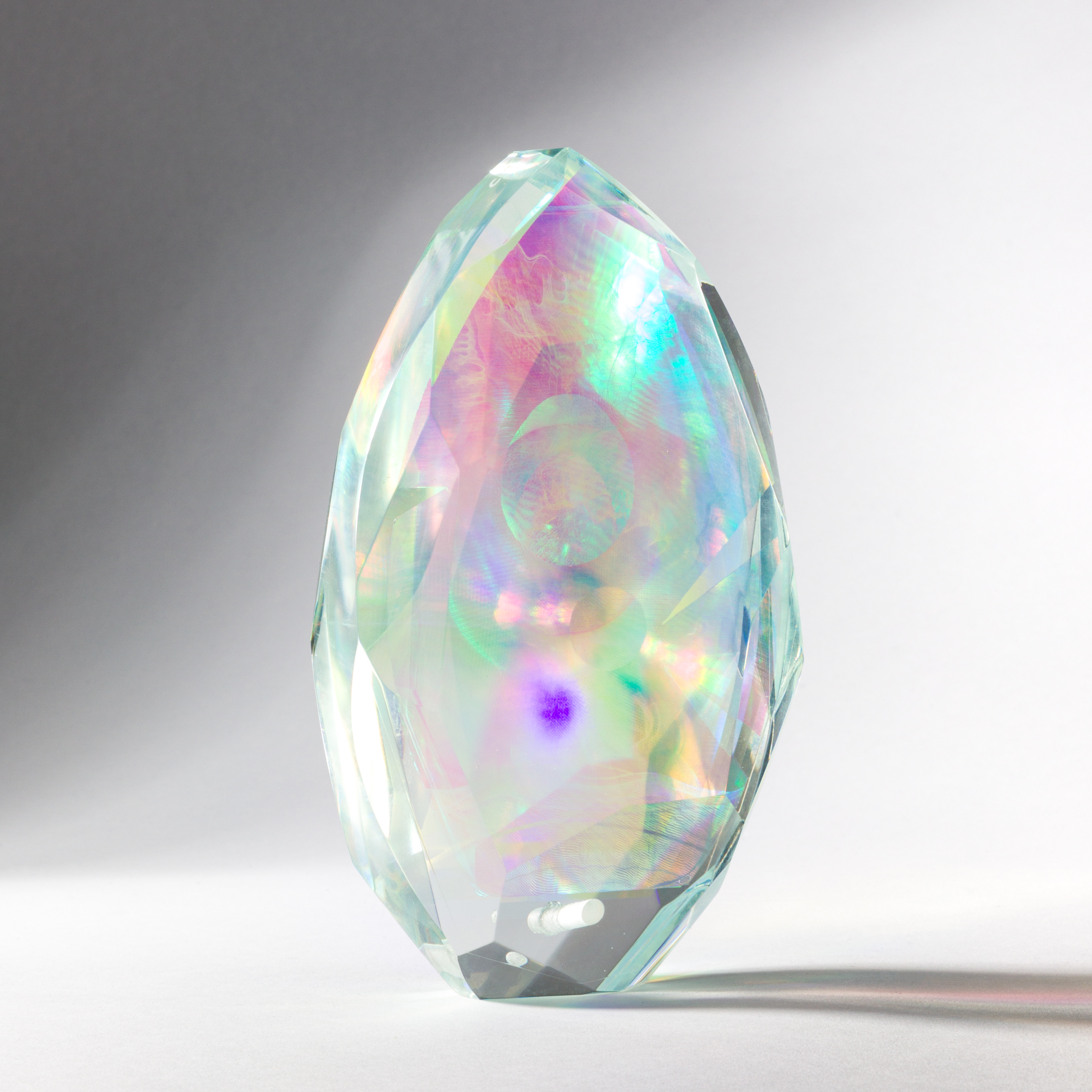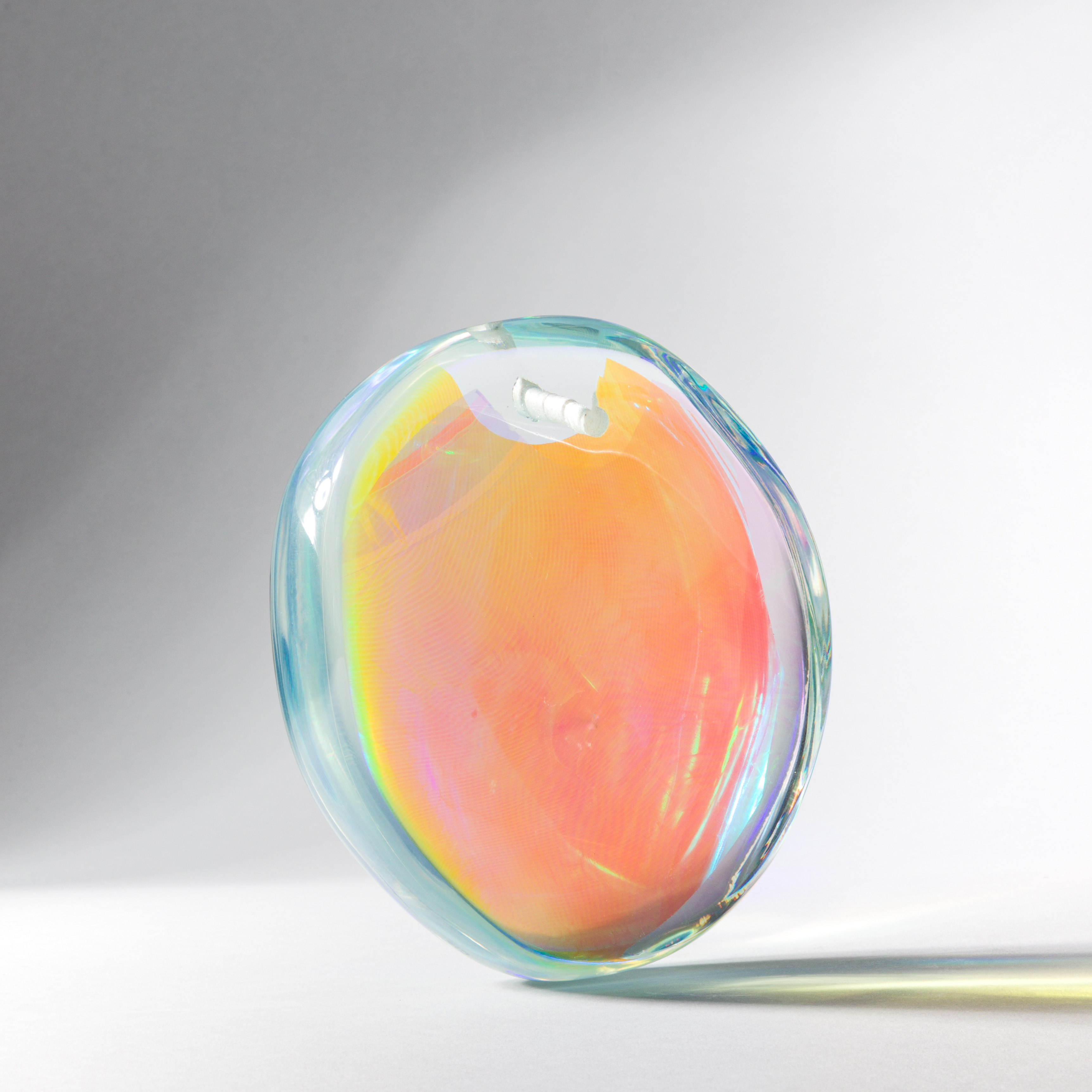 Studio images by Shayla Blatchford © 2019

These pieces were suspended in a gallery space at form & concept during their Summer Show 2019 in Santa Fe, NM. They were shown with works on paper by Thais Mather from her Ex Ovo Omnia series.




C Alex Clark © 2019
These are three pieces I've created for Meow Wolf's House of Eternal Return, a bowling alley which was transformed into an interactive, immersive art space in Santa Fe, NM.


Mirage Wall in Portals
A wall sized (~16' x 14') installation covered in mirrored acrylic with mirrored mylar creatures suspended above. This wall was designed to fit the techo/glitch beach theme of the room it inhabits.



Cave Crystals
Two holograms of crystals that are installed in the caves, which were all hand crafted to create an interactive experience.

Elusive Quartz





Elusive Quartz at Meow Wolf from C. Alex Clark on Vimeo.



Crystal Supernova



Solar Flare Scoria
A hologram jewel designed for the Museum Cases.